Welcome to the Official Website for the
West Friendship Volunteer Fire Department
Celebrating 75 Years of Dedicated Service to the Community
1944-2019
Click here to watch our 75th anniversary video!
---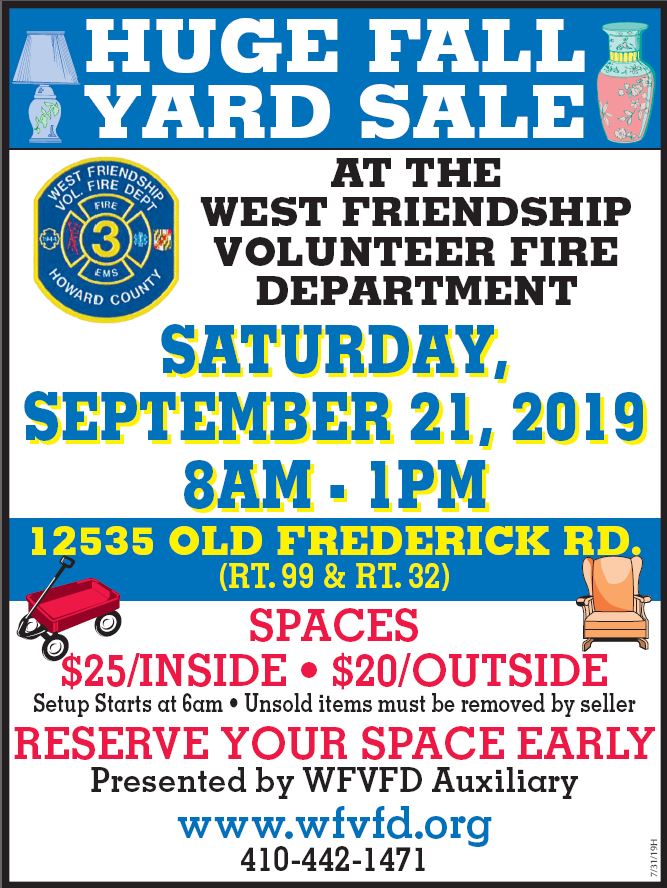 Click here for vendor application!
---
Join us Tuesdays From 4-8 PM at the Station For Food Truck Tuesday! Each Tuesday This Spring and Summer (With a Few Exceptions) We Will Have a Different Lineup of Food Trucks For You to Choose From. See You There!

---
WFVFD DOES NOT SOLICIT DONATIONS OVER THE PHONE. IF YOU RECEIVE A PHONE CALL ASKING TO DONATE, IT IS NOT US.
---
74th Annual Howard County Fair - August 3-10th, 2019

Firefighter/EMT Pieter Lucas, July 30

It's almost Fair Time! The Howard County Fair this year is August 3-10, 2019 and we hope you can come! This is one of our largest fundraisers each year and we are excited to once again operate the Snowball Stand, Funnel Cake Stand, Bingo, Dunk Tank, Nevada, and Raffle Stand as well as provide fire and EMS protection for the Fairgrounds.
Please stop by our booths, and don't miss the Grand Opening ... (Full Story & Photos)


Injured Bicyclist in Sykesville

Firefighter/EMT Pieter Lucas, July 29

This evening Station 3 was alerted for the report of an injured bicyclist in Sykesville. At 19:43 units responded to the 600 block of River Road to find a single patient in the roadway and commenced patient care. Maryland State Police aviation was requested and a landing zone was established nearby by Carroll Engine 124. MSP Trooper 3 transported the patient Priority 1 to the R Adams Cowley Shock ... (Full Story & Photos)

Flyout in Marriottsville

Firefighter/EMT Pieter Lucas, July 28

At 14:54 members responded for a rescue with unknown injuries in Marriottsville. Callers reported a vehicle into a pole east of the Route 32/Old Frederick Road intersection and that nobody had gotten out of the vehicle. Chief 3A arrived at Old Frederick Road near Mount View Road to confirm a single vehicle into a utility pole with one occupant trapped and requested aviation. Tower 3 extricated the ... (Full Story & Photos)

Rescue With Entrapment

Firefighter/EMT Pieter Lucas, July 26

Firefighters responded this afternoon to a serious vehicle collision in Ellicott City. At 16:48 units were alerted to respond to Eastbound I-70 near the Route 40 split for an accident with unknown injuries, which was quickly upgraded with subsequent reports of one person trapped. Paramedic 35 arrived to find a single vehicle with a single patient who was heavily trapped in the vehicle and was pronounced ... (Full Story & Photos)


Barn Fire in Glenwood

Firefighter/EMT Pieter Lucas, July 15

At 14:19 this afternoon units responded to the Walnut Springs Nursery in the 3000 block of Route 97 for the reported barn on fire. The caller advised that the structure was used to store plant pots and that there were no animals or chemicals inside. Units arrived to find two large structures fully involved and began defensive operations. Water Supply 3 and Carroll Engine 124 set up draft sites to ... (Full Story & Photos)



Photo courtesy of HCDFRS


Rural Water Supply Training

Firefighter/EMT Pieter Lucas, June 26

This evening members participated in the monthly company training session at the Howard County Public Safety Training center, where rural water supply topics were covered. This discipline is especially important as much of our response area does not have fire hydrants. Members discussed the county Standard Operating Procedure for rural water supply and the different types of water sources available ... (Full Story & Photos)


WFVFD Mourns Life Member Carl W. Buell (Updated with Final Arrangements)

Firefighter/EMT Pieter Lucas, April 20

It is with great sadness that the West Friendship Volunteer Fire Department must announce the unexpected passing of Firefighter Carl Buell, life member and Board of Directors Chairman. He was 56 years old. Carl, a Howard County native, joined the WFVFD in 1981 and was an active operational member in addition to performing administrative duties on the Board. He worked for many years at his family's ... (Full Story & Photos)

Your feedback is important to us! Feel free to sign the guestbook.
Duplication of text, photos, or any other content on this website is prohibited without permission of WFVFD. If you have questions, please contact us at info@wfvfd.org