Welcome to the Official Website for the
West Friendship Volunteer Fire Department
Celebrating 76 Years of Dedicated Service to the Community
1944-2020
Click Here to Watch Our 75th Anniversary Video!
---
We have modified our usual Food Truck Tuesday events. Each week one food truck will be across Old Frederick Rd. from the station on Butterfly Ct. ready to serve you. Check back here for updates and please come out and support us and your local small businesses!
June 2, 2020 update: It's Taco Tuesday! Taco Bar will be here from 4-8 PM or as long as supplies last. See you then!
Rules to follow: Please be sure to practice proper social distancing - have a face mask and maintain 6 feet between you and the next customer, please pay with credit as much as possible, and try to keep groups in line to a minimum to allow proper spacing for your safety.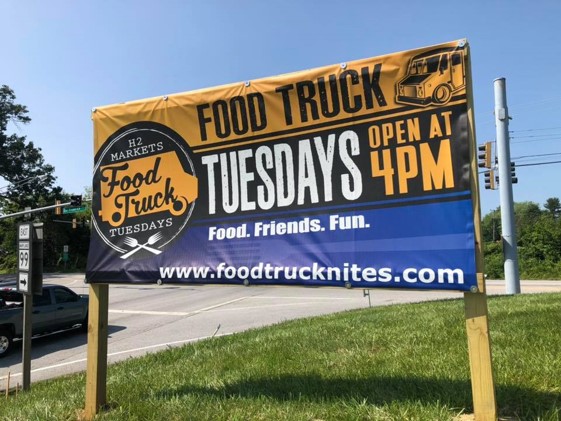 ---
WFVFD DOES NOT SOLICIT DONATIONS OVER THE PHONE. IF YOU RECEIVE A PHONE CALL ASKING TO DONATE, IT IS NOT US.
We're Here For You During COVID-19

Firefighter/EMT Pieter Lucas, May 25

The COVID-19 outbreak in the United States has changed many, many things in everyone's lives. One thing that hasn't changed is that your West Friendship VFD First Responders (Volunteer and Career) are still here for you whenever you need us, day or night. The West Friendship VFD is a combination fire department, relying on a mix of career and volunteer staffing. Our volunteer members are continuing ... (Full Story & Photos)

Flyout on I-70

Firefighter/EMT Pieter Lucas, May 23

At 20:07 the station was alerted for the reported motorcyclist down on I-70 near Route 32 in West Friendship. Units arrived at Eastbound I-70 near the Fairgrounds and located a patient in the median with significant injuries and began treatment. Maryland State Police Aviation Command's Trooper 3 was requested and landed in the Eastbound lanes of I-70 and subsequently transported the patient to the ... (Full Story & Photos)

Rescue at the Park and Ride

Firefighter/EMT Pieter Lucas, May 20

This afternoon units responded for the reported car flipped over on Route 32. At 13:17 the station was alerted for the 2000 block of Route 32, with a caller reporting an accident in the Park and Ride lot. Units located an overturned SUV about twenty feet into the woods off the parking lot. Tower 3 worked to quickly extricate the patient who ultimately refused transport by EMS. Units cleared at 14:09.... (Full Story & Photos)

Commercial Fire at Weis Markets

Firefighter/EMT Pieter Lucas, May 13

Units responded this afternoon for a commercial building fire in Woodstock. At 14:22 WFVFD was alerted for flames coming from the roof of Weis Markets, located in the 10800 block of Birmingham Way. Upon arrival Engine 31 found fire coming from the roof and made access from the Charlie side, locating an exhaust hood from the deli area in flames. Units began an offensive attack while searches of the ... (Full Story & Photos)

Rescue on I-70

Firefighter/EMT Pieter Lucas, April 21

At 20:08 tonight Station 3 units were dispatched to a rescue with unknown injuries on I-70 near Rt 32. As equipment was starting up, the call was upgraded to a rescue with entrapment involving a tractor trailer and the location was updated to Westbound I-70 between the weigh station and the Howard County Fairgrounds. Tower 3 and Tanker 3 were the first arriving units and found a refrigerated tractor ... (Full Story & Photos)

Busy Saturday in West Friendship

Firefighter/EMT Pieter Lucas, April 18

We remembered Life Member Firefighter Carl Buell today on the first anniversary of his untimely passing. Members took apparatus to St. John's Cemetery to honor Carl's lifelong service and membership with the WFVFD.
At 15:50, units were alerted for a rescue with entrapment on Route 32 near River Road. Engine 31, Engine 32, Tower 3, Paramedic 35, Ambulance 36, and Chief 3A arrived on Route 32 between ... (Full Story & Photos)

House Fire in Woodbine

Firefighter/EMT Pieter Lucas, March 26

West Friendship units went to Carroll County this morning for a report of a house on fire in the Woodbine area. At 10:20 Engine 31, Tanker 3, and Water Supply 3 were alerted for the 7400 block of Old Washington Road in the 12-4 box. Upon arrival, Engine 31 (first arriving unit) found a single family home with heavy fire showing from the front and rear. Crews began a defensive operation and worked ... (Full Story & Photos)

Your feedback is important to us! Feel free to sign the guestbook.
Duplication of text, photos, or any other content on this website is prohibited without permission of WFVFD. If you have questions, please contact us at info@wfvfd.org