National Weather Service Alerts for Howard County, MD
Welcome to the Official Website for the
West Friendship Volunteer Fire Department
Celebrating 76 Years of Dedicated Service to the Community
1944-2020
Click Here to Watch Our 75th Anniversary Video!
---
Food Truck Tuesdays - New Location!
Starting Tuesday 6/30/2020, our Food Truck Tuesday events will take place at the Howard County Living Farm Heritage Museum located at 12985 Frederick Road in West Friendship (near the Fairgrounds) from 4-8 PM. Check the Food Truck Tuesdays Facebook page for the latest updates on which trucks will be there. Please come out and support us, the museum, and your local small businesses!
There is plenty of space to spread out and please continue to practice proper social distancing - have a face mask and maintain 6 feet between you and the next customer and try to keep groups in line to a minimum to allow proper spacing for your safety.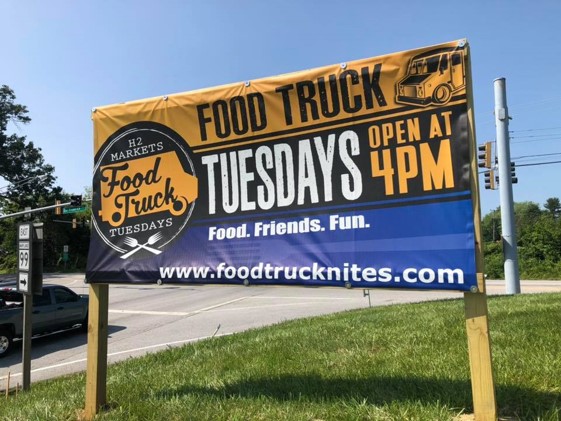 ---
WFVFD DOES NOT SOLICIT DONATIONS OVER THE PHONE. IF YOU RECEIVE A PHONE CALL ASKING TO DONATE, IT IS NOT US.
WFVFD Mourns Shirley Mills

Firefighter/EMT Pieter Lucas, October 13

It is with the deepest regret that the members of the West Friendship Volunteer Fire Department must announce the passing of Shirley J. Mills, 67. Shirley joined the WFVFD in 1968 and has served ever since as an Auxiliary and Administrative Member. She served on countless committees and worked at many fundraising events including suppers served at the old fire station, the Howard County Fair, and ... (Full Story & Photos)


Firefighter Paramedic Erby Perdue Has Retired

Firefighter/EMT Pieter Lucas, September 15

After 44 years in the Howard County Fire Department, Firefighter Paramedic Erby Perdue, Jr. has retired. Erby started as a volunteer with the Fifth District VFD before becoming a member of the Ellicott City VFD for many years, rising to the rank of Deputy Chief. For the last 31 years he has been a contingent Firefighter Paramedic assigned to the West Friendship VFD.
Members and career staff met at ... (Full Story & Photos)


We're Here For You During COVID-19

Firefighter/EMT Pieter Lucas, June 25

The COVID-19 outbreak in the United States has changed many, many things in everyone's lives. One thing that hasn't changed is that your West Friendship VFD First Responders (Volunteer and Career) are still here for you whenever you need us, day or night. The West Friendship VFD is a combination fire department, relying on a mix of career and volunteer staffing. Our volunteer members are continuing ... (Full Story & Photos)

House Fire in Dayton

Firefighter/EMT Pieter Lucas, June 24

WFVFD responded to the 5-45 box in Dayton this morning for a report of smoke in a home. At 09:56 units were alerted for the 14300 block of Howard Road, where the caller reported a haze of smoke in the residence with the fire alarm sounding. Units arrived to find heavy smoke and began an offensive attack on a working basement fire. Water Supply 3, Tanker 3, and Tanker 34 utilized cisterns in the area ... (Full Story & Photos)

Serious Collision on Route 32

Firefighter/EMT Pieter Lucas, June 23

Members of Station 3 responded this evening for a serious motor vehicle collision in West Friendship. At 18:23 the tones sounded for the reported rescue with injuries on Route 32 near I-70. Callers advised that a vehicle had been traveling Eastbound on I-70 and left the roadway, fell between the two bridges of the Route 32 overpass, and landed on Route 32 below I-70. Arriving units found a single ... (Full Story & Photos)

One Overturned on I-70

Firefighter/EMT Pieter Lucas, June 07

Late Sunday units responded for a crash on I-70 in Cooksville. At 22:30 the station was alerted for the reported vehicle overturned on I-70 near Route 97. Units arrived at Westbound I-70 just west of Route 97 to find a pickup truck on its roof on the slow shoulder with a single occupant who had self-extricated. The pickup struck a truck-mounted crash attenuator that was on scene protecting work crews ... (Full Story & Photos)

Flyout on I-70

Firefighter/EMT Pieter Lucas, May 23

At 20:07 the station was alerted for the reported motorcyclist down on I-70 near Route 32 in West Friendship. Units arrived at Eastbound I-70 near the Fairgrounds and located a patient in the median with significant injuries and began treatment. Maryland State Police Aviation Command's Trooper 3 was requested and landed in the Eastbound lanes of I-70 and subsequently transported the patient to the ... (Full Story & Photos)

Your feedback is important to us! Feel free to sign the guestbook.
Duplication of text, photos, or any other content on this website is prohibited without permission of WFVFD. If you have questions, please contact us at info@wfvfd.org